*** EXCLUSIVE! ***

If you have RealAudio,
Listen to Mario himself speak about his books;
recorded especially for this website!




LISTEN!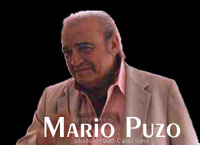 biography | filmography | other writings | exclusive RealAudio
photo album | larry king interview | guestbook | message board

FICTION:
THE DARK ARENA | THE FORTUNATE PILGRIM | THE GODFATHER | FOOLS DIE
THE SICILIAN | THE FOURTH K | THE LAST DON | OMERTA | THE FAMILY

NONFICTION:
THE GODFATHER PAPERS & OTHER CONFESSIONS
INSIDE LAS VEGAS

CHILDREN'S BOOK:
THE RUNAWAY SUMMER OF DAVIE SHAW


###

Website copyright ©1996-2008 J Geoff Malta




Audio content copyright © by Mario Puzo
Not to be posted or used without permission
Sound Recorded by Carol Gino
Sound Edited by J Geoff Malta

Special Thanks to:
Mario Puzo and Carol Gino for their help!